Here i will present installation projects from my ongoing series

The Journey.
--------------
HOME OF MEMORY . MAISON DE MEMOIRE (2021)
Installation de la Maison de Mémoire, The Journey, 
Grand Théâtre de Lorient, 24ème Rencontres Photographiques de Lorient
09 Octobre - 12 Décembre 2021
Dans ma Maison de Mémoire, structure fragile qui évoque les fondations comme les vestiges d'une mémoire flottante, j'invite le spectateur à l'intime expérience du voyage intérieur, de l'introspection, et du recueillement.
La Maison de Mémoire est une installation conçue spécialement pour les Rencontres Photographiques de Lorient, en étroite collaboration avec le Théâtre de Lorient. On aborde la maison par un premier tour extérieur," à la surface des images". Puis on entre un.e par un.e, chacun.e son tour,  pour en découvrir l'intérieur, "au coeur des images". Dans cette installation, le tracé lumineux sur l'image ne se révèle qu'à l'intérieur, grâce à la lumière extérieure. La mémoire ne nous revient que si nous prenons le temps de la "mettre en lumière", et de regarder de plus près les choses invisibles en apparence.
Modélisation échelle 1/10ème de la Maison de Mémoire
ILLUMINATED LANDSCAPES ( 2022 )
The Journey, Kaunas 2022
Emmanuel Levinas Center , Kaunas, Lithuania
14 July - 26 August 2022

New space, new challenge. Following the Home of Memory presentation at Lorient in 2021, I imagined a new way in a smaller scale to show my "illuminated landscapes", developing a narrative in the shape of a large accordion book installation.
Those illuminated landscapes show contemporary landscapes of Lithuania, in which I pierced tiny holes with a needle, drawing faces, silhouettes, traces in those empty scenes. Those shapes are borrowed from personal family archives, or invented. Hard to see at first, those delicate dotted drawings are revealed once the prints are backlit, the light shining through the holes. Those figurative or abstract patterns appear magically like imaginary memories, resurfaced from the past. On the back, white side of the print appears the ghost image, the embossed and reversed silhouette : here remains the presence, and disappears the land. I recreate scenes of an erased photo album in a very symbolic way: what's visible on the surface? What can be revealed once in the light?
THE RIBBON PROJECT (2020-2022)
- a letter to the women of my family - 
The
Ribbon Project
is a correspondence and embroidery collective project with the women of my maternal family, another piece of my developing work
The Journey
.
In the 1960s, extraordinary genealogy research made by a British relative revived my maternal family history.
All around the globe, we discovered we shared the same ancestor, the Great Rabbani Buhay who escaped from Austria-Hungary and settled in Wilkomir (Ukmergė). A family tree appeared, rooting in Lithuania with four descendants, four branches to scatter later on in the 1880s in France, the USA, the UK and South Africa, following the Jewish diaspora, fleeing again from the pogroms.
Starting The Journey, I had the desire to both rediscover Lithuania and reconnect with this large family.
During my travels back in time and to Lithuania, the Tree became as much a pattern as a source of inspiration.

I naturally imagined recreating a family tree in Lithuania, a metaphorical one, made of linen ribbons embroidered with the names of the mothers, daughters, sisters, aunts, and nieces of our family.
I also wished to enlighten and pay tribute to the women of this family: the ones who carried us, the ones who transmitted, the ones we inherited our names or Judaism from, the ones who passed, the ones we could not trace or who vanished from this family history.
Needlework is a recurrent medium in Women's Art History and has a long relationship with politics, power, and resistance. I use it already in my illuminated landscapes. Using it again in this embroidery project was a poetic, symbolic, and intuitive way to echo with the thread of our history, with a craft form traditionally considered women's work, and was a special tribute to my own mother, Marie, a fashion designer who inspired and actively participated to this collaborative piece in particular, and to our reconnection with Lithuania in general.
During my residency at the Kaunas Photography Gallery in 2019, I sent to each living woman of my family "a letter from Lithuania" explaining our relationship, along with a piece of linen ribbon and some golden thread to embroider a name of one of us. Many took the time to wonder and embrace my request and memory art project relinking past, present and future generations. I have received since then some very moving letters and embroidered ribbons back from all over the world. I express here all my gratitude to them. This creative correspondence strengthened my faith in human and family bonding over time and miles. 
And I was very moved to display this family tree for the first time during my show in Kaunas in 2022, a tree  covered with floating names from the past and present, returning to the original land: a piece of resilience and remembrance, an invitation to reflect for passers-by.
The
Family Memory Tree
was installed  outside the Emmanuel Levinas Center , Kaunas, July -  September 2022.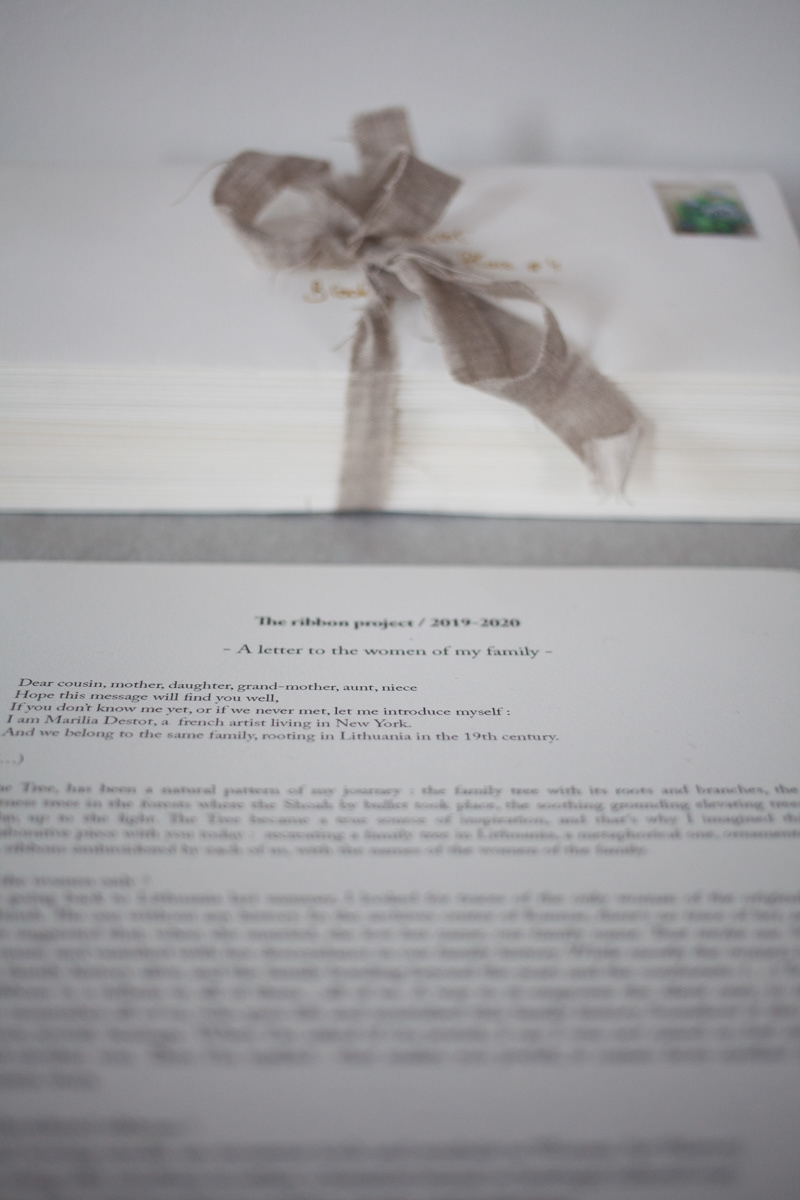 LETTERS TO MY ANCESTORS (2019)

During my residency in Lithuania in 2019, I visited many places, memorials, abandoned cemeteries, and synagogues, archive centers, looking for traces of the past. Very much like Jonas Mekas in his "Reminiscences of a Journey to Lithuania", i filmed short sequences of nature, faces, ordinary details, and daily rituals. Following any possibility or promise of a family discovery, I took the road from Vilnius to Kaunas, from Ukmergė to Žemaičių Naumiestis, from Šilutė to Juodkrantė. I followed an intuitive itinerary with many diversions, returns, randomness, improvisations, understanding the journey itself was more important than the – unknown - destination. And I met extraordinary people along the way. 

Before leaving Lithuania, I was given a record of music titled Laiko Atspindžiai (Reflections of Time)* by composer Vaida Striaupaitė-Beinarienė. Once home, I listened to it. It opened with the piece Protevių Laiškai (Letters from the Ancestors) that moved me so deeply and echoed so profoundly with my recent experience of Lithuania that it became the soundtrack to it. Sometimes memory has its own mysterious ways to reach you.
 The installation (here during my residency at VSW in 2019)  uses multiple floating screens, simple fabric veils, repeating my story in space, until it disappears, and fades away.

* Letters from the Ancestors (2011)
Composer Vaida Striaupaitė-Beinarienė - Atlikéjai / Performers: Simona Liamo (soprano), Robertas Beinaris (oboe - English horn), Lithuanian National Philharmonic Chamber Ensemble Musica Humana with conductor Algirdas Vizgirda.
THE MEMORY SUITCASE (2018-2022)
THE MEMORY SUITCASE is a growing collection of objects, photos and documents gathered around the world from known and unknown family, the exiled descendants and the vanished ones: an ongoing family archeology from the past and the present.
Along with it, I present this symbolic photograph  
A piece of moss, a piece of them
, 
taken at the Pivonija Forest, Ukmergé, in 2019.
My family originally came from Ukmergė (Wilkomir). There is no trace of the remaining Lithuanian members after 1939. In 1940, the Soviets and Red Army occupied the city, and in 1941 the Nazis came and mass shootings, the Shoah by bullets, in the forest started. In all, more than 12,000 Jewish men, women and children were murdered in the Pivonija Forest until 1943. I took this picture of a piece of moss taken from the memorial site - where nature took over the mass grave - in my hand, as a symbol of what remains or what is tangible today. The piece of moss strangely looked like a piece of lung. A living element that grew from the past.
A WALL OF QUOTES (2022)
The Journey, Kaunas 2022
Emmanuel Levinas Center , Kaunas, Lithuania
14 July - 26 August 2022
A growing collection of quotes and tales from writers, poets, and philosophers on exile and remembrance,
from all origins and languages, who inspired and nourished my journey.
TREE POLYPTYCH (2022)
The Journey, Kaunas 2022
Emmanuel Levinas Center , Kaunas, Lithuania
14 July - 26 August 2022
The Tree has been a natural pattern for this journey: the family tree with its roots and branches, the witness trees in the forests where the Shoah by bullet took place, the soothing and grounding trees that elevate our sight up to the light today.