Here i will present installation projects and works in progress, related to my ongoing series

The Journey.
--------------
HOME OF MEMORY . MAISON DE MEMOIRE

Dans ma Maison de Mémoire, structure fragile qui évoque les fondations comme les vestiges d'une mémoire flottante, j'invite le spectateur à l'intime expérience du voyage intérieur, de l'introspection, et du recueillement.
La Maison de Mémoire est une installation conçue spécialement pour les Rencontres Photographiques de Lorient, en étroite collaboration avec le Théâtre de Lorient. On aborde la maison par un premier tour extérieur," à la surface des images". Puis on entre un.e par un.e, chacun.e son tour,  pour en découvrir l'intérieur, "au coeur des images". Dans cette installation, le tracé lumineux sur l'image ne se révèle qu'à l'intérieur, grâce à la lumière extérieure. La mémoire ne nous revient que si nous prenons le temps de la "mettre en lumière", et de regarder de plus près les choses invisibles en apparence.
Modélisation échelle 1/10ème de la Maison de Mémoire
Installation de la Maison de Mémoire, The Journey, 
Grand Théâtre de Lorient, 24ème Rencontres Photographiques de Lorient
09 Octobre - 12 Décembre 2021
THE RIBBON PROJECT
- a letter to the women of my family - 
work in progress
"The ribbon project" is an other piece of my family puzzle
In "the Journey", I explore my maternal jewish Lithuanian origins, discovered in the 60s thanks to a deep genealogy research spread over 7 generations made then by a British cousin. Today it's my turn to take this journey, to keep digging into archives, and reconnect with this known and unknown family. I especially had the desire to enlighten the women of this family. Last summer 2020 I sent to each of the living ones (that I'm directly connected to), a letter, a ribbon & some golden thread to embroider a name of one of us with, starting a collaborative piece. In this gloomy year where social life and human connections got so distanced and rare, I reached out to some relatives who had no idea of who i was , of what was our common family history, and many took the time to wonder and embrace my request and memory art project.  I received and keep receiving very loving letters and embroidered ribbons back from all over the world. More coming soon...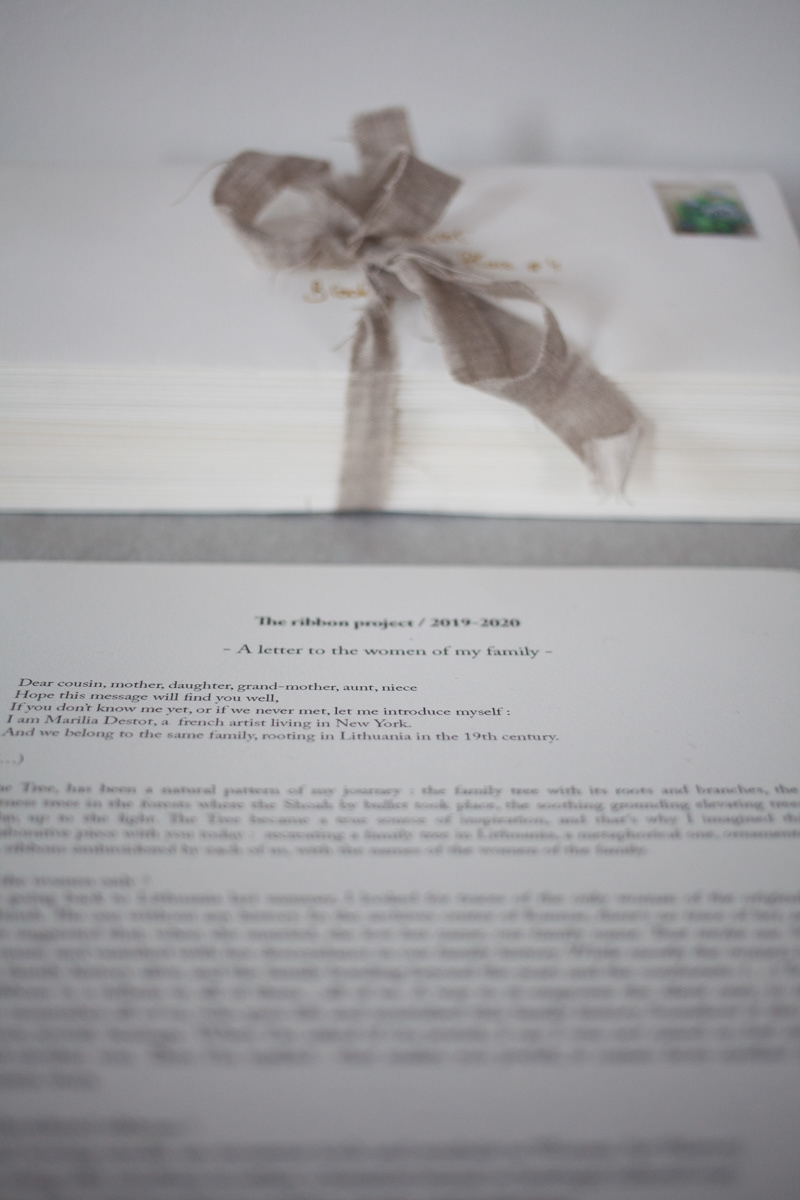 MY TRAVEL DIARY / MON JOURNEL DE VOYAGE
An other piece in progress of "The Journey" is this multi-layer screening  of my travel diary. Very much like Jonas Mekas in his "Reminiscences of a Journey to Lithuania", i filmed short videos of nature, faces, ordinary details, and daily rituals, along my travels to Lithuania or during my family encounters. Edited together and screened on a music by Lithuanian composer Vaida Striaupaité-Beinariene (reflections of time / letters from the ancestors). The installation uses multiple floating screens, simple fabric veils, repeating my story in space, until it disappears, fading away.
Video layered installation from the VSW Residency in Rochester NY, 2019                                 
Videos by Marilia Destot - Music by Vaida Striaupaité-Beinariené (letters from ancestors - 2011)
THE MEMORY TABLE
VSW - 2019
THE MEMORY TABLE is a display of family documents, photos, letters, objects... a growing collection through the years and my family encounters, following my genealogy discoveries.
Above the table, the picture "a piece of moss, a piece of them", taken at the Pivonija forest near Ukmergé (at the memorial site where the Shoah by bullets took place) in 2019. 
My family originally came from Ukmergé (Wilkomir), before migrating to Europe, North America, South Africa, fleeing the pogroms at  the 19th century. A few stayed in Lithuania. I looked for them, for their descendants. Though, there is no trace of the remaining members of that family after 1939 in the local city archives. Two years later the Shoah by bullets would start, and 95 to 97% of the Lithuanian jewish community perished. I took this photograph of a piece of moss taken from the memorial site, in my hand, as a symbol of what remains or what is tangible today. The piece of moss strangely looked like a piece of lung. A living element that grew  from this tragic past, there, buried in this forest.